Install motorised awnings with a cassette, LED lighting, wind and light sensors in Torrevieja and Finestrat
With so many different models of awnings available today, we are determined to offer what is currently the biggest-selling motorised model on the market. The installation of awnings is hardly ever contemplated when an architectural project is being drawn up, but the fact is that they are an important part of the exterior of the house. Awnings in Spain, especially in summer, help to create cool spaces and provide a more pleasant atmosphere for those long hot summer days. And on rainy days they help to protect us from the rain.
We offer motorized awnings with specially designed cassettes that blend in with modern architecture. Aland and Concept Box 350 cassette models. These awnings complement high-tech and modern styles, but also classic styles. If you choose either of these models, they will integrate seamlessly into your architecture. Electric motorized awnings are becoming more and more popular.
The main advantage of these models is that the structure provides a great deal of protection when they are in an open position, but when it is very windy or when we aren't using it, it can be stored away in its watertight protective box (cassette). If we want, the Alan model also allows us to have light when the awning is inside the cassette.
Thanks to modern technology, we have the option of installing wind and light sensors. If there's a very strong wind blowing, the awning will be retracted into its protective cassette by the control system, thus prolonging its life. It is also possible to install a light sensor. The manufacturer pre-sets the default settings of these sensors, but you can reset them at any time in accordance with your needs. If there's enough light, the sensor reacts and automatically opens and if there isn't, it is retracted into its protective cassette. To extend the life of your awning, we recommend that you install both sensors.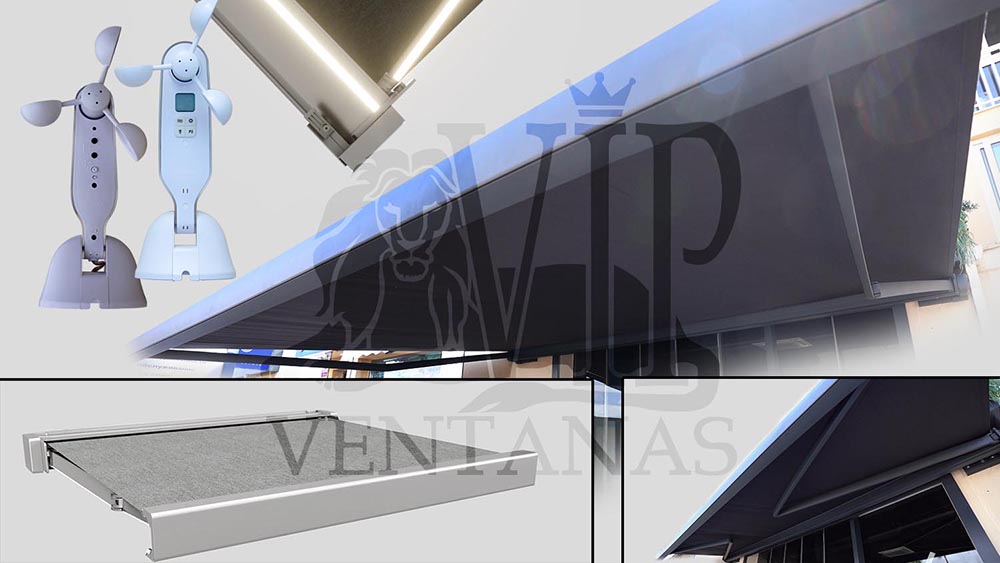 We can offer you different types of LED lighting to choose from. Depending on the type and number of awnings, we can offer you different types of remote controls. If all we have is an awning without lighting, for example, a basic one-channel control will suffice. But if we have a group of awnings with several sensors and lighting, a multichannel control is recommended. We can use a single remote control channel for a group of awnings, or we can control each awning and function separately. If the awnings in a group are in different zones, we recommend using a multi-channel remote control and installing a sensor in each zone. The wind sensor cannot be turned off via the remote control, it is always enabled, monitoring the force of the wind so that whenever it detects that the wind is too strong, it retracts the awning into its cassette. We can however use the remote control to switch the light sensor on and off.
The tilt angle in the Aland model is 4.5 to 78 degrees. In the 350 model, it is from 0 to 75 degrees.
The Concept 350 model has an oval shape while the Alan model features minimalist square and rectangular shapes. The maximum extension of the arms is 3.5 m in the Concept 350 model and 4 m in the Aland model. The maximum width of the awning in both models is 6 m.
Depending on the size of the awnings, the motors can be 40, 50 or 80 Newtons. For larger awnings, we recommend the use of more powerful motors and vice versa. You can also choose different motor brands. For example, the affordable Gaviota motor has delivered good results with the smallest awnings, but if we want to use a well-known brand with a faster technical service we can install Somfy IO motors - the perfect solution for luxury homes. The mid-priced Cherubini model has performed well with all sizes.
We can offer you different types of brackets for different types of installation: wall, ceiling and corner brackets. The warranty for the mechanical parts is 5 years and 2 years for the electronics. You can bay awnings in Torrevieja and Finestrat.
If you want to install motorized awnings with an electric motor in Torrevieja, Finestrat, Benidorm, La Zenia, Punta Prima, Los Balcones, La Mata, Alicante, La Nucia, Villajoyosa, you've come to the right place. To ask for an estimate, please visit our offices or call us. Free estimates with no obligation to purchase!